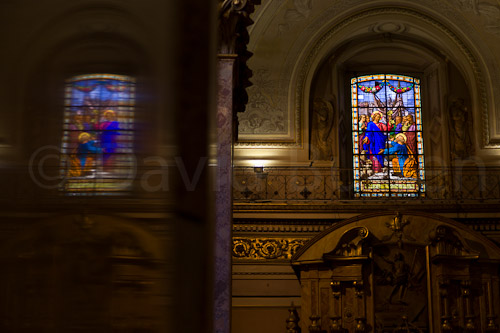 Reflected glory
(A2_061952)
Instead of some wildlife or a landscape, here's an image I made in March this year in Buenos Aires (on my way to Antarctica to lead another LuminOdyssey photography expedition).

Having flown in from Australia that morning, my friend Martin Bailey and I headed straight off to explore the Argentine capital. One of our first ports of call was the National Cathedral, which is an amazing building. Don't let the graffiti on the Roman facade put you off: the inside of the building is quite different. And while services are not being conducted it's also quite photography-friendly! With my "photographer's eye" in top gear, I made lots of images exploring unusual points of view and highlighting details which often get passed by. The coloured glass windows were an obvious feature, and here I noticed a reflection in the polished marble wall.
It's relatively dark inside the building, and while I was using the Canon 24-105mm/4 lens, the EOS 5DmkII's high-ISO performance meant that maximum f/4 aperture wasn't a hindrance. This image was made at 1/30s @ f/4, ISO 1600. Because of the slow shutter speed I held the camera pressed against the wall (and had the lens' IS enabled of course). As usual the camera was in Manual exposure mode.