I made a discovery today that made my day!
Quite a few years ago I was in an outdoor "disposals" store in the suburbs, and bought some neat fleece gloves. Finger-less gloves, with a fold-over mitten flap:
Made by Torpeako, these have been GREAT for photography in cold weather. I can poke a finger or two out to operate the camera buttons, and then pull them back into the warmth. The mitten flap is held to the back of the hand with a small patch of velcro. These have been with me to both polar regions, and I haven't really been concerned with the cold. Actually, when it gets very cold I put on a pair of thin gloves underneath to help:
So far this has been fine down to around -20C (not that we get that cold in the Antarctic summer, but last December in northern Norway it did get "quite cold").
But I haven't been able to find more of these gloves. I'm often asked what gloves to use for photography in cold weather (especially by participants in my
Antarctic and Arctic photo workshops
) but my answer has had to be "ones like this, but I don't know where to get them any more". The store I bought mine from closed years ago, and in any case Torpeako have changed their designs. They do have a similar model they market to fishermen, but the design of the thumb isn't the same. In the last year I've asked most outdoor clothing supply stores around Melbourne, and while some people remember having them in the past, no-one's been able to point me to current suppliers.
This all changed today, when I happened to be walking through Melbourne's CBD and dropped in on Pinnacle Outdoors in Little Bourke St (near Hardware Lane). Having looked at some camping gear I was about to leave but asked the staff about the gloves just in case they had useful advice. With a grin they stepped behind the counter and picked a pair of gloves off the shelf!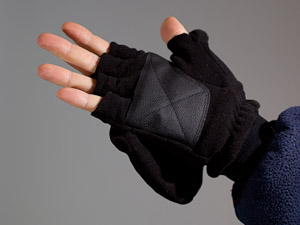 The palm patch is for extra grip. They're the
KAOS
"Hunter" model, and they're even made in Melbourne. They cost AU$25/pair, and are available in four sizes. I bought the XL size, and will be testing them out over this winter. But having tested them out at home today and with my previous experience with my other gloves, I'm very happy with them so far! Apart from anything else it's nice to have a backup pair in case something happens to my other gloves.
If you're after these gloves, don't hesitate to give the nice folks at Pinnacle a call (+61 3 9642 2955). They did say they're happy to process credit cards over the phone and post gloves out. I do have the email address of the store's owner, but won't list it here.
Incidentally, I'm hoping that the new
Dots Gloves
D430 gloves will make good inner gloves with these for
my next Antarctic trip
: they will allow me to use my iPhone in the field without having to de-glove entirely. Not that I'll be using it as a phone, but I do use some of the apps even when away from phone networks!