Ice reflections
Laubeuf Fjord, Antarctica
The above image was a Finalist and is featured in the print exhibition and the book. The image below is also in the book.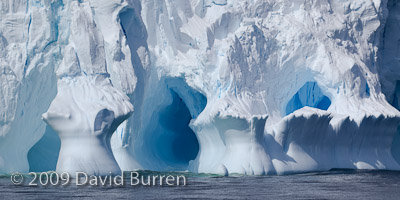 Troll Castle
Marguerite Bay, Antarctica
You might recall that
last year
one of my Elephant Seal images (taken in the "exotic" location of Geelong, not far from my home) won the Animal Portraits section of ANZANG. I figured out a long time ago that variety (and yet consistency) helps: the odds were against another seal image winning this time, even though I literally have thousands of them.
I was unable to attend the exhibition opening this year due to work commitments, so I haven't yet seen the images other than the amazing winners and runners up shown on the
ANZANG site
(although details of other images are in a continually-updating banner at the top of that page): I'm looking forward to getting my copy of this year's book to see the rest of the images!